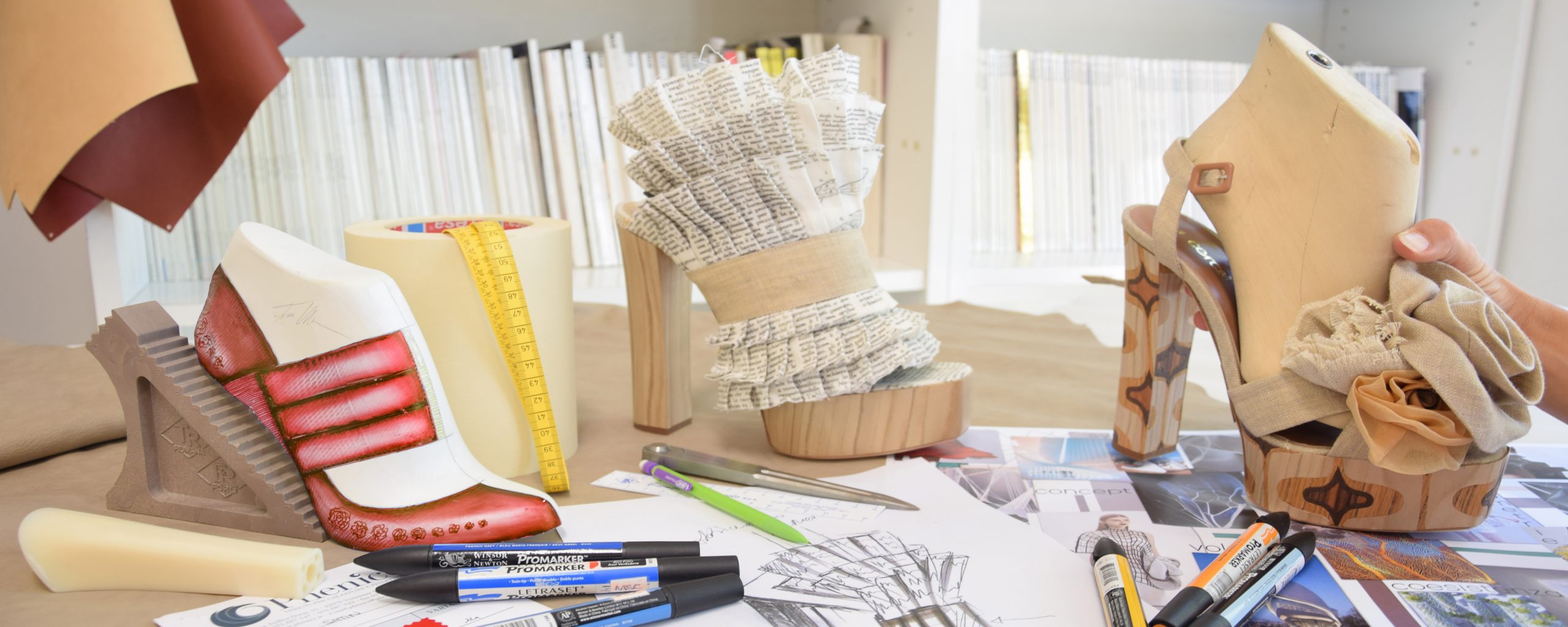 Professional profile
The Shoes Designer is a fundamental professional in a shoe company, to project and plan new collections, make drawings of the aesthetic and functional characteristics of footwear models.
The designer takes care of the entire shoe design process, so it must have not only stylistic but also technical skills, to contribute to the technical design of the footwear necessary for the preparation of the prototype and subsequent production.
Objectives
The professional training aims at acquiring knowledge on methods of design research, ability in drawing and technical drawing on the last, both with traditional and digital techniques, technical skills in pattern-making by hand and by CAD tools, knowledge about last, materials and footwear components, and at taking care of the shoe design process in all the phases.
Why attend this course?
Because it offers the opportunity to acquire fundamental stylistic and technical skills in footwear design, through a practical training which provides a comprehensive overview of all the steps to create footwear: design, development and product realization, within an important shoe district and home of well-known footwear brands of the luxury segment.
Programme
• Study of fashion trends and stylistic research
• Product development
• Study of accessories
• Collection construction (structures, models, materials, range plan)
• Drawing and technical drawing on the last
• Pattern-making of basic model by hand
• Development of basic models by CAD
• 3D CAD Design
• Graphic Design
• Study of the last
• Study of the heel
• Manual making of the last and heel in fully equipped workshop
• Design and prototyping workshops
• The production phase (sewing, lasting and finishing) of prototypes designed by the students
• Visit to shoe production factories and their suppliers
• Realization of projects and prototypes for exhibitions and events
• Final exam
Period:
1st course: february 2023 – july 2023 (Spring/Summer edition)
2nd course: october 2023 – february 2024 (Autumn/Winter edition)
Duration:
600 hours theory / workshop / project work / final exam
Attendance:
From monday to saturday, full time-long term
A small part of the training activity takes place online.
Stage
The best students have the possibility to complete their professional training with an internship of about 3 months. The organization of the internship takes place under the specified conditions of CERCAL's Regulation.
At the end of the course each student will be given a Certificate of Attendance.
Admission requirements and selection procedure
• Orientation and Motivational Individual Interview
• Graphic-visual test
• For foreign student is required a basic knowledge of the Italian language (A2 level)
Enrollment fee
The fee includes, in addition to the professional training of 600 hours, all the materials necessary for the course (handouts, equipment and tools for practical exercises of pattern-making, the development of footwear models and components). For international students who need a visa, a residence permit and an Italian language course, there is an additional fee for assistance during visa process and the possible attendance of the language course.
A course will only take place once a sufficient amount of applicants have enrolled.
For information:formazione@cercal.org