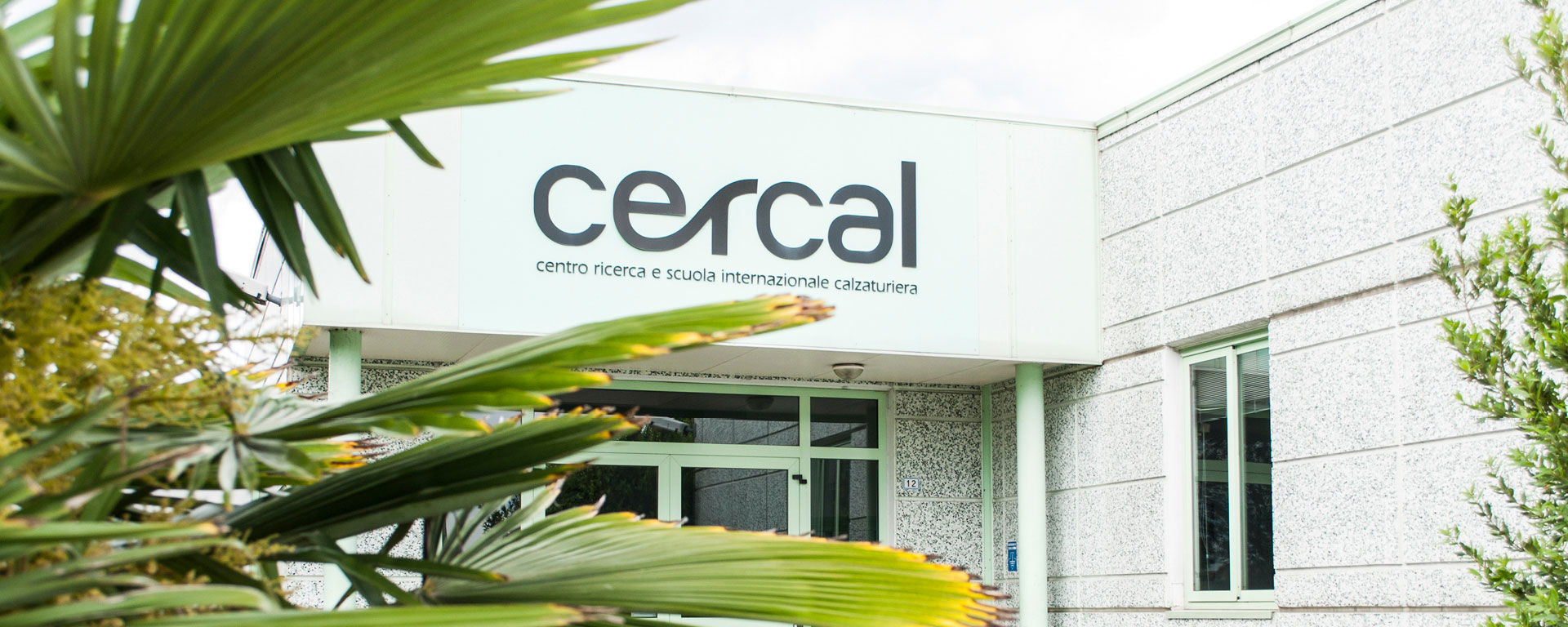 CERCAL
RESEARCH CENTRE AND INTERNATIONAL FOOTWEAR SCHOOL
CERCAL has been working in specialized vocational training since 1984, in collaboration with prestigious companies and professionals working in the world of footwear, leather goods, and fashion.
CERCAL trains professionals who can cover all specializations of the field with particular attention to the production of high-quality women's shoes. Continuous research and constant update of the formative content allow CERCAL to be a reference point as well as to provide stimulus for the renewal of professionals already working in the production cycle of footwear companies.
Given the extensive selection of vocational courses for pattern makers, designers, last technicians, and specialized operators in this field, CERCAL distinguishes itself by the high-level training and high qualification achieved by the participants.
What is rather out of the ordinary is the synergy established between CERCAL and the over 40 consociated companies, among them the most important reference points in the footwear industry made in Italy: Baldinini, Casadei, Pollini, Sergio Rossi, Giuseppe Zanotti.
It is this strong point that offers extraordinary opportunities for the most talented young people, coming from anywhere around the world.
In fact, CERCAL guarantees its students actual contacts with companies in the Footwear and Leather Goods sector, not only by organizing guided tours and internships, but also helping young people with their work placement in this field.
Currently most of our students are working for fashion companies in roles fitting the training received.
2013 – 2020 President: Cesare Casadei, Vice President: Massimo Pazzaglia
2007 – 2013 President: Sergio Rossi, Vice President: Michele Giovagnoli
2004 – 2007 President: Gianvito Rossi, Vice Presidents: Giuseppe Zanotti, Elvio Silvagni
2000 – 2004 President: Giuseppe Zanotti, Vice President 2000 – 2003: Paolo Corelli, 2003 – 2004: Gianvito Rossi
1995 – 2000 President: Felice Alberto Colonna, Vice President: Enzo Bonafè
1993 – 1994 President: Paolo Cavalli, Vice President: Enzo Bonafè
1990 – 1993 President: Sanzio Talacci, Vice Presidents: Paolo Cavalli, Gimmi Baldinini, Aldo Fortuzzi
1985 – 1990 President: Sergio Rossi, Vice Presidents: Morris Magli, Aldo Fortuzzi, Sanzio Talacci
1984 – 1985 President: Mario Giosuè
CERCAL's activity emerged and developed in the heart of the industrial footwear district of San Mauro Pascoli, or Rubicone, an important area for its secular footwear tradition.
In time, this region distinguished itself for the high-end ladies' footwear manufacturing, developing highly specialised skills and expertise.
The school draws constant stimulus from this know-how to enrich the accomplished vocational projects. The school constantly interacts with the region sharing devotion and passion for everything that makes footwear an item of style and quality.
Through vocational courses with the right balance between theory and practice, thanks to the contribution of managers and collaborators of leading fashion and footwear companies at an international level, and thanks to the competence of the teachers collaborating with the school, we endorse creativity, talent, operational skills of those who want to embark on and further their fashion careers.
Furthermore, we put constant updating and stimulus into action for the renewal of professionals already working in the production cycle of companies, with workshops and courses to keep up with the perpetual innovation of this sector.
CERCAL takes pride in being a Vocational Training Centre for higher, and further, education accredited by the Emilia Romagna region as well as being one of the top national Training Centres in the footwear sector.
CERCAL was acknowldeged by Assocalzaturifici as being a Centre of Excellence for footwear training. Moreover, it obtained a special award from the Chamber of Italian Fashion for specialized school in the footwear and leather industry.
CERCAL – International Footwear and Design School – placed first for eight editions in the "I love Italian Shoes" competition, in Fashion and Design (2003-2005-2006-2008-2009-2011-2012-2013), promoted by the Ministry of Education, University and Research, and by Assocalzaturifici, for schools only, with the purpose of scouting young talented designers in the footwear sector.
CERCAL is certified under the Quality Management Systems in compliance with UNI EN ISO 9001:2015 EA 37 (certificate issued by CERMET n. 1775-A).